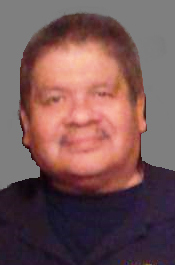 Obituary of Devon "Chito" Baptiste
Devon "Chito" Baptiste, age 61, passed away on Monday, November 19, 2018 in Irving, Texas. Services will be held at 1:00pm, Friday, November 30, 2018 in The Chapel at Griffin-Hillcrest, Ardmore, Okla. Interment to follow at McAlister Cemetery, Overbrook Okla.
Chito was born on January 14, 1957 to King and Gladys, (Yearby) Baptiste in Ardmore, Okla. He was born 6 minutes before his twin brother Osie. This was a very important fact that he was the 'Older Twin'. Chito, whose name means "Big" in Choctaw was raised in Dallas, TX. and attended and graduated from H. Grady Spruce High School where he played football alongside his twin brother Osie. Chito married and started a family early. To his sorrow, his only marriage did not last, but remains close friends to the mother of his children, Becky Baptiste Salazar.
He loved to dance and sing karaoke. He took the nickname of 'Playa' and he and his twin brother would sing together and Call themselves, "The Bologna Boys". Chito loved watching football. The Oklahoma Sooners and Dallas Cowboys were his two favorite teams. He also loved watching wrestling and would often watch with his brother, nephew and great-nephew. When he could he would go and Watch his great nephew play High School football and baseball. But one thing everyone will say is, he loved to tell jokes. Most of them corny, but still the same he would make himself laugh. His nieces would normally be his audience and co-jokesters. And he absolutely loved to spend time with his children, grandchildren and great-grandchildren.
Chito, being full-blood Mississippi-Choctaw was very proud of his heritage and made sure everyone knew it. Chito loved his family with everything he had. And when he made a friend, they were friends for life.
He is preceded in death by his parents, King and Gladys (Yearby) Baptiste, three Sisters, Joann Ingram, Myrna Gardner and Mamie Medina, his twin brother, Duane "Osie" Baptiste and one grandson, Hugo Rodriguez Jr.
Chito is survived by his three children: Devon Baptiste Jr., Michael Jeremy Baptiste and daughter, Melanie Baptiste, all of Dallas, Texas. One sister, Diane Baptiste Gonzales and husband Robert Thorne of Midlothian, Texas. Grandchildren, Destiny Baptiste, Devon Baptiste III, Michael Baptiste Jr., Araceli Meza. Alyssa Baptiste, Gabriel Baptiste, Ari Baptiste, Mia Baptiste and Arianah Rodriguez, and eight great-grandchildren. He had numerous nieces, nephews, great-nieces & nephews and even some great-great nieces & nephews. As well as numerous extended family and friends.
Pallbearers are Robert Ingram Jr., Corey Gardner, Stephen Lindsey, James Noahubbi Jr., Miko Paul Gonzales and Devon Baptiste III. Honorary Pallbearers are, Curtis Ingram, Terry Ingram, Clint Ingram, Anthony Hughes, Carmen Medina, Jesse Martinez, Devon Baptiste, Jr., Michael Baptiste and Michael Baptiste, Jr.