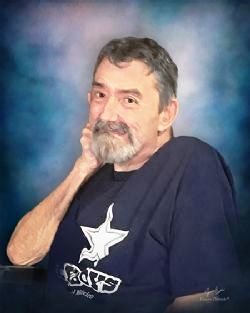 Obituary of Floyd N. Stone
Floyd N. Stone, 66, of Texas City, Texas, passed away Monday, September 3, 2018. Funeral services will be held 10:00 AM, Tuesday, September 11, 2018 in The Chapel at Griffin~Hillcrest Funeral Home in Ardmore, Okla. Burial will follow at McGee Cemetery.

Floyd Stone was born November 25, 1951 in Hereford, Texas. Floyd lived his life with Cerebral Palsy, but it never took his smile or laughter. He never knew a stranger and would strike up a conversation with anyone who would listen. Floyd was devoted to his family and friends. He loved people and animals and life itself. He never hesitated to ask a pretty lady if she was married. He enjoyed going out to eat, hanging at the mall or local Walmart and riding his scooter all over town. Floyd was an avid fan of the Dallas Cowboys, University of Texas Longhorns and a big fan of WWE Wrestling.

He is preceded in death by his Grandparents; parents, Nuel and Vada Marie Stone; brother, Jerry Stone; great nephew, Christopher Jake Stone and his uncle, Bill Morris.

Survivors include uncle, Freddie Morris; brother, Ronnie Stone and wife Suzie of Texas City; nephews, Robert Stone and wife Nichole of Colorado Springs and Christopher Michael Stone of Dickinson, Texas; niece, Trenna Stone of Ft Worth, Texas; great nieces and nephews, Mercedes Stone and Angelica Stone of Santa Fe, Texas, Candy and Christopher Cody Donaghey of Eustace, Texas, Jimmy Miller and Jeffrey Stone of Ardmore, Oklahoma; sister-in-law, Melba Stone; her children, Russell Johnson and wife Brandi and Jason Johnson all of Ardmore, Okla.
Visitation will be held from 6:00 pm until 8:00 pm, Monday, September 10, 2018, at Griffin~Hillcrest.