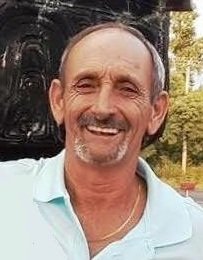 Obituary of Russell Alan Tanner
Russell Alan "Rusty" Tanner, passed away at the age of 60, in Dallas, Texas, on Sunday, August 19, 2018. Funeral services will be held at 10:00 am, Wednesday, August 22, 2018, in The Chapel at Griffin ~ Hillcrest Funeral Home. Interment to follow in Lakeview Cemetery, Marietta, Okla.
Rusty was born on March 11,1958, to Fred Aaron Tanner and Mildred Louise (Smithers) Tanner at Ardmore, Okla. He attended and graduated from Dickson Schools, Class of 1976. He married Hedy Cryer on July 16, 1976, at Lone Grove, Okla., and from this marriage came two daughters. After that marriage ended, he met Karen Dietrich in November of 1987, whom he has been in a close relationship with to date. Rusty worked in the oilfield and as a carpenter in construction for most all of his life. He loved fishing and wood working. He loved his dogs Alle, Jax and Buddy.
He was preceded in death by his parents, brother, Larry Tanner, sister, Sherry Tanner, and granddaughter, Stormy Lusk.
Rusty is survived by two daughters: Shera Taylor and Tody of Madill, Okla., and Katie Clements and Bobby of Ardmore, Okla. Grandchildren: Garren Clements, Isaac Eades, Tanner Stewart, Nataley Clements, and Taygen Clements. One great-grandchild, Saige Clements. Sister, Freda Knapp of Altus, Okla. Two aunts: Nona Ruth Evitts of Ardmore and Shirley Justice of Oxford, Alabama. Companion, Karen Dietrich, and her children: Shawn Dietrich, Shanae Nail, and Angela Evans. His fur babies: Alle, Jax, and Buddy
Serving as pallbearers will be: Tanner Stewart, Isaac Eades, Garren Clements, Bobby Clements, Tody Taylor, Ricky Rogers, and Darrell Vaughn.
Visitation will be held on Tuesday evening, 6:00 pm to 8:00, August 21, 2018, at Griffin ~ Hillcrest Funeral Home.