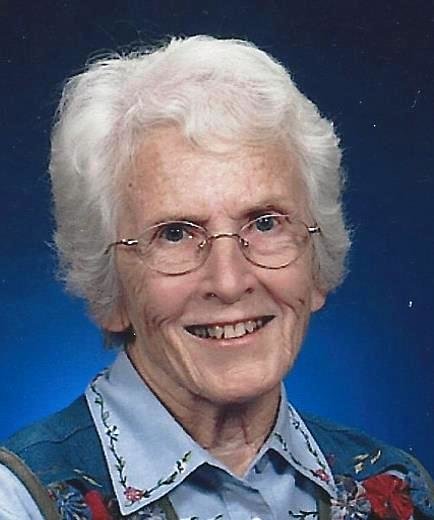 Obituary of Marjorie Harnsberger
Marjorie Faye Harnsberger, age 92, passed away on July 16, 2018, in Ardmore, Okla. Memorial services will be held at 11:00 AM, on Saturday, July 21, 2018, in the Lake Murray Chapel with Pastor Brad Dery officiating. Cremation will be under the direction of Griffin~Hillcrest Crematory. Services will be under the direction of the family.
Marjorie was born on December 8, 1925, to Michael E. Derrick and Birdie (Lowry) Derrick, at Troy, Okla. She married Warren James Harnsberger on September 18, 1953 in Oklahoma City, Okla. She worked as a clerk typist and a homemaker. She enjoyed quilting, crafting and working outdoors on her trails and gardens. She was particularly fond of the dogwoods that thrived on her property. She loved hosting family gatherings. She was a member of First United Methodist Church.
She was preceded in death by her parents, husband, grandson, Ricky Harnsberger and sister, Inez Cox.
Marjorie is survived by her daughter, Nancy McClendon and husband, Ricky, of Jones, Okla., two sons, Mike Harnsberger and wife, Mitra, of Oklahoma City, Okla. and David Harnsberger and wife Ronda, of Lone Grove, Okla., one grandson, Travis McClendon, of Northlake, TX., two granddaughters, Holly Harnsberger, of Ardmore, Okla. and Leslie Andrus, and husband, Yaroslav, of Highland Village, TX., three great-granddaughters, Avery McClendon, Lily Andrus and Abby Andrus, one sister, Zela Hanson, of Tulsa, Okla., and numerous other relatives and a host of friends.
In lieu of flowers, please consider donations in her name to Good Shepherd Community Clinic, 20 12th Ave NW, Ardmore, OK 73401 or the Ardmore Public Library, 320 E St. NW, Ardmore, OK 73401.