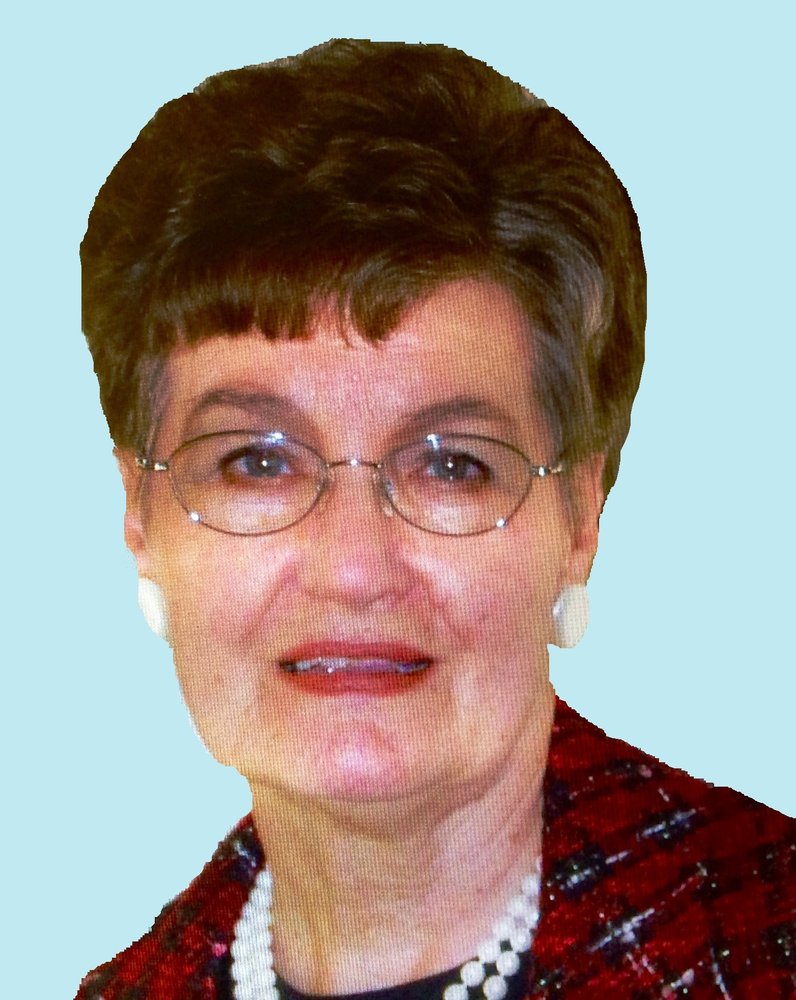 Obituary of Margaret Thomason
Margaret June Thomason died in Ardmore, Okla. on July 11, 2018. Funeral services will be held at 10:00 AM, Saturday, July 14, 2018, in The Chapel at Griffin-Hillcrest with her son Kevin Thomason Officiating. A short reception will follow in the Family Room at Griffin~Hillcrest. Interment will be in Summit View Cemetery, in her hometown of Guthrie, Okla. at 4:00 PM.
June was born to Nolan and Myrtle Welch in Guthrie, Okla. on June 16, 1931. June graduated from Guthrie High School in 1949. June and Don K. Thomason were married on Don's birthday, January 25, 1957, in Tulsa, Okla. They have one son, Kevin, who lives in Dallas, TX., with his wife, Kay.
June loved music and it showed in her beautiful alto voice. As a young woman she sang at many weddings, funerals and other functions. Her father, Nolan Welch, nurtured that talent, and the talent of her siblings, by organizing the Welch Family Quartet consisting of June, who played the mandolin, her sister Georgia, who played the guitar, her brother Bill, who played the violin, and her sister Arena, who played the piano. They played at political rallies in and around Logan County where Nolan was County Sheriff for 12 years. During World War II they also played a number of times at Tinker Air Force Base. June loved her time singing with the family, also learning to play guitar and the piano, and her passion for music never waned. She continued to use her singing talent through her entire life, singing regularly at weddings and funerals in Ardmore.
June became a Christian while in High School and was baptized at the Church of Christ in Edmond, Okla. June had a strong faith, was always active in the Lord's Church, and had no doubt that she would be with Jesus when this day came.
She worked while in High School as a soda jerk and also at Bryant's Photography, where she tinted black and white photographs for customers that wanted a color picture. Later she worked as a PBX Operator for Southwestern Bell and then at the Guthrie Furniture Factory.
Soon after being married, she, Don and Kevin lived briefly in Denver, after which the family was transferred to Duncan, Okla. where she was Church Secretary for the North Side Church of Christ for two years. The family was then transferred to Ardmore in November 1962, where she worked for the Ardmore School System, Priddy's Quality Food, and later for the local newspaper, the Daily Ardmoreite. She retired from the newspaper after 23 years, advancing from the Classified Ad Department all the way to becoming Business Manager for the newspaper. During this time she also served as volunteer Church Secretary for the Ardmore Church of Christ
June and Don have one son, Kevin, whose passion growing up was baseball. June shared that passion, having grown up with a father and brothers who played ball, and she made almost every one of Kevin's games all the way through High School, diligently keeping score from a folding chair right behind the backstop. She and Kevin also bowled together in a Mother and Son Bowling League. June and Don bowled together in bowling leagues for many years.
June loved to travel and the family never failed to take annual vacation trips to Arkansas, Colorado and California while Kevin was at home. She and Don then began taking trips on their Gold Wing Motorcycles, having ridden in 45 States. She also loved to take cruises.
She was preceded in death by her parents, her sister Georgia MacDonald, and her brother Gerald [Buddy] Welch.
She is survived by her beloved husband of the home, Don, son, Kevin and his wife Kay, of Dallas, TX., two grandsons, Stephen Thomason of Dallas, TX., and Jack Thomason and his wife Erica, of Dallas, and granddaughter, Trudy Thomason, of McKinney, TX. She is also survived by three great-grandsons: Jacob, Noah and Ethan Thomason, one sister, Arena and her husband, Walter Jones of Amarillo, TX., three brothers, Bill Welch and his wife, Marjorie of Guthrie, Don Welch and his wife Jamie of Comanche, TX., and Douglas Welch and his wife, Sharon of Denton, TX., and many nieces, nephews and their children and grandchildren.
Visitation will be at held from 6:00 PM until 8:00 PM on Friday, July 13, 2018, at Griffin~Hillcrest.