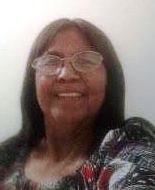 Obituary of Mary Thompson
Mary Lou Thompson, age 64, passed away on December 1, 2017, in Ardmore, Okla. Funeral services will be held at 2:00 pm, Tuesday, December 5, 2017, in The Chapel at Griffin~Hillcrest with Pastor Scott Battice officiating. Interment to follow at Nelda Cemetery.
Mary was born on October 14, 1953, to Rufus Bob and Susie Thompson in Ardmore, Okla. She Attended Dickson Schools. She was a member of Centerpoint Baptist Church. Mary loved spending time with her grandkids, going to church and singing. She enjoyed cooking and loved making her grandkids favorite foods. She enjoyed playing basketball and such games as "horse" and "around the world", and softball including catch and pitching. Mary loved to take pictures and help others.
She was preceded in death by her husband, Gary Thomas, mother, Susie Thompson, brother, Darrell Sampson, aunts, Corena Bob and Verna Johnson, uncle, Nathan Thompson, Jr. and one nephew, Christopher Balentine.
Mary is survived by three daughters, Jaime Lewis and husband Coby, of Lone Grove, Okla., Alicia Thompson, of Ardmore, Okla. and Tara Thomas, of Oakland, Okla., one son, Brian Locust and wife Ladonna, of Chewey, Okla. two sisters, Joannie Wallace of Ardmore, Okla. and Colleen and husband David Dobbs of Ardmore, Okla., one brother, Lawyer Bob and wife Tia, of Ardmore, Okla. Grandchildren; Alexis, Cameron, String and girlfriend Alicia Curtis, Justice, Harmon, Koby "KC", Ameia, Taloa, Jaime "JC", Wyatt, Kensi "Ziva" Payzlee and Turquoise Lewis, Damien, Jaylen Thompson, Jesse and Zachary Thomas, Tyler Hooper, Layce and Joshua Locust. Great grandchildren; Elias Morgan and Paxton Lewis. Uncle, Edwin Thompson and wife Shirley. Nieces and nephews; Christina Landeros, Nathan Wallace, Nicolas Landeros, Kevin Bob, Dillion Bob, Lea Bob, Amber, Kelly, Damon, Elizabeth Sampson and Michael Blackwood, Sandra Taylor and Husband Richard, Amanda Williamson and Brenda Myles.
Those serving as pallbearers will be Michael Blackwood, Kevin Bob, Dillion Bob, Nathan Wallace, Nick Landeros and Damon Sampson. Honorary pallbearers will be Keith Coley and Thomas Joe.
A visitation will be held from 6:00 pm until 8:00 pm, Monday, December 4, 2017 at Griffin~Hillcrest.