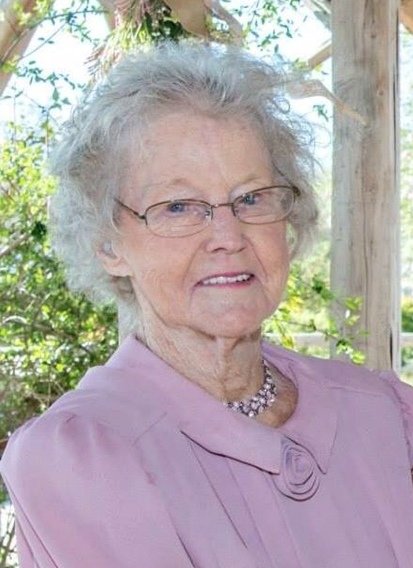 Obituary of Marilene (Waddle) White
Marilene (Waddle) White, age 94, passed away on Sunday, January 3, 2016, at Ardmore, Okla. Funeral services will be held at 2:00 pm, Saturday, January 9, 2016, at Northwest Baptist Church, of Ardmore, Okla., with Dr. Leonard Ezell officiating. Interment to follow at Hillcrest Memorial Park, Ardmore, Okla.
Marilene was born on September 27, 1921, to Albert Houston "A.H." Waddle and Pearl (Porterfield) Waddle, at Winthrop, Arkansas. She attended Ardmore schools and graduated from Ardmore High School with the Class of 1940. Marilene married Mr. Joseph Howard White, Jr., on May 17, 1941, at Ardmore, Okla. She was a resident of Ardmore for most of her life and was a member of Northwest Baptist Church and a member of Adult Two Sunday School Class. Marilene enjoyed gardening, playing games, and working jigsaw puzzles, crossword puzzles, and word searches. Spending time with her family, especially the grandchildren and great-grandchildren, thrilled her dearly.
She was preceded in death by her parents, step-mother, Mildred Waddle, and husband, Joseph White, who passed in 2005, three brothers: Aaron Waddle, Haskell Waddle, and Herley Waddle, and a sister, Marillo Adcock. Granddaughter, Melodie Orfi, great-grandsons: Andrew White and infant Hoffman, and great-granddaughter, Reagan Hoffman.
Marilene is survived by her two sons: Anthony N. White and wife, Tina, of Spring Branch, Texas, and Stephen T. White and wife, Carol, of Surprise, Arizona; a daughter, Jolene P. Hoffman and husband, Alan, of Lone Grove, Okla. Grandchildren: Dawn Shonyo and husband, Darrin, of San Antonio, Texas, Johnna Glass and husband, Jim, of San Antonio, Texas, Valerie Pisanko and husband, Mike, of Surprise, Arizona, Julie Austin and husband, Del, of Chandler, Arizona, Darren White and wife, Lucy, of Casa Grande, Arizona, Jason Hoffman and wife, Dana, of Emory, Texas, and Darlene Nickell and husband, Tom, of Moore, Okla. Great-grandchildren: Justin Orfi and wife, Desiree, Joshua Orfi, Brandon Gonzales, Ashley Burtch and husband, David, Kristian Shonyo, Jake Glass, Jessica Glass, Joshua Pisanko , Abigail Pisanko, Bradley Austin, Kendall Austin, Breanna Austin, Joshua White, Isaiah White, Kaylee White. Cynthia Belloc, Catrin Hoffman, Kannon Hoffman, Emerson Hoffman, Landon Moss and Carson Moss. Great-great-grandchildren: Maddie Orfi and Baby Burtch. Sister, Vera Finley of Hatfield, Pennsylvania, and numerous nieces, nephews, church family, and friends.
Serving as pallbearers will be her grandsons: Jason Hoffman, Darren White, Darrin Shonyo, Jim Glass, Tom Nickell, and Jake Glass.
Her family will be receiving friends for visitation on Friday evening, from 6:00 pm until 8:00 pm, January 8, 2016, at Griffin~Hillcrest, Ardmore, Okla.
In lieu of flowers, donations may be made to the Northwest Baptist Church, 1609 Robison Street, Ardmore, Okla., 73401
To send flowers to the family of Marilene (Waddle) White, please visit Tribute Store