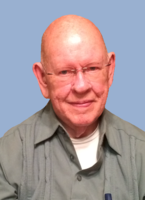 Leonard Keith Frank
Leonard Keith Frank passed away at the age of 87 on December 1, 2019 Ardmore, Okla. Funeral services will be 10:30 am Tuesday, December 3, 2019 in The Chapel at Griffin~Hillcrest with Pastor David Gardner officiating. Interment will follow in Hillcrest Memorial Park Cemetery.
Keith was born on July 11, 1932 in Haxtun, CO to Leonard LaNear Frank and Helen (Worl) Frank. He attended and graduated Fleming School and went on to attend Denver Bible College. He served as a pastor in his early career. He married Lelia Mae Powell on March 25, 1952 in Denver, CO. Keith was an accomplished musician. They served as Foursquare Gospel Ministers, serving several churches and later moving into Radio Broadcasting Evangelizing Ministry and, while in Kearney, NE, they were part of a TV Broadcast called the Gospel Harmony Makers. They later moved to Lincoln, NE, where he worked as a piano salesman. He later opened and operated Frank's Guitar Studio, and he enjoyed playing guitar at local dances. Keith enjoyed spending time with his family playing cards and would always make sure the moments were videoed. They moved to Greeley, CO in 1972 and to Ardmore in May of 2006 to be close to family. Lelia preceded him in death on February 25, 2010. Keith married Elaine Williamson on June 4, 2011. She preceded him in death on May 22, 2013. Keith married Doris Deatherage on November 28, 2015 in Ardmore.
Keith was preceded in death by his parents, two wives: Lelia Mae Frank and Elaine Frank, two infant children: Stephen Dale Frank and Janice Marie Frank, son, Garie Lee Frank, and brother, Troy Frank.
He is survived by his wife, Doris Frank of the home, four sons: Terry Frank of Ardmore, Richard Frank and wife, Deborah of Fouke, AR, Keith Frank and wife, Pam of Colorado Springs, CO and Lenny Frank and wife, Lisa of Ardmore, grandchildren: Carlos Frank and wife Sindy of Charleston SC, Jonathon D. Frank and wife, Frauke of Columbus GA, Rebekah Frank of Edmond, and Kevin Dale Frank of Colorado Springs, CO, great grandchildren: Azlynn Frank, Angel Frank, Carlos Frank Jr. and Christina Frank of Charleston, SC, and sister, Delores Bedingfield of Norwalk, CA.
Serving as pallbearers are his four sons and grandsons.