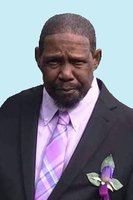 Curtis Eugene "Junebug" Stevenson, Jr.
Curtis Eugene "Junebug" Stevenson, Jr., age 65, passed away on November 3, 2019, in Arlington, Texas. Funeral services will be 11:00 AM, Saturday, November 9, 2019 at Mount Zion Baptist Church of Ardmore. Interment to follow in Clearview Cemetery.
Junebug was born on June 11, 1954, to Curtis Eugene Stevenson, Sr. and Thressia (Moore) Stevenson in Ardmore, Okla. He accepted Christ at an early age at Mount Zion Baptist Church in Ardmore, Okla., under the Pastorage of Dr. E.C. Beaty. Junebug lived in Lawton, Okla., for sixteen years before moving to Arlington, TX. He worked as a security guard for many years until his health began to decline. Curtis loved his family, fishing, LOUD music and barbequing. Curtis made many friends throughout the years and never met a stranger. He and his wife Elizabeth helped many young people both monetarily and as a mentor. Their home was always opened to anyone in need.
He was preceded in death by his parents, two sons, Kevin Franklin and Gerald Halstied, and sister, Mildred 'Nikki" Stevenson.
Curtis is survived by his wife of 24 years, Elizabeth Stevenson of Arlington, TX., children, Beulah Campbell, of Crowley, TX., Darnese Brierton, of Lawton, Okla., Torrey Abram, of Lawton, Okla., Succentto Hennesy, and husband, Lonnie, of Oklahoma City, Okla., Marcus Turner and wife, Celina, of Arlington, TX., Neoshia Jolly, and husband, Latron, of Irving, TX., thirty-two grandchildren, seven great-grandchildren, siblings, Larry Stevenson, and wife, Pamela, of Ardmore, Okla., Winfred Stevenson, and Wife, Sandra, of Houston, TX., Clarence Stevenson, of Thackerville, Okla., Ronald Stevenson, of Arlington, TX., Marcia Burnett, of Ardmore, Okla., Wenda Cohee, of Forrest Hill, TX., Cassandra Elaine Winters, and husband, Larry, of Lancaster,TX, brother-In-Laws, Alex Turner, Jr., of Norman, Okla., and Joey Williamson, Uncle Eddie Moore of Ardmore and a host of nieces, nephews, family and friends.
Serving as pallbearers will be his Grandsons and Nephews.
A visitation will be held from 6:00pm until 8:00pm, Friday, November 8, 2019, at Griffin~Hillcrest.