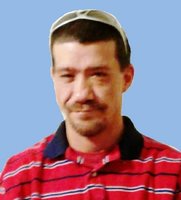 Carl Ray Middleton
Carl Ray Middleton, age 41, passed away on September 18, 2019, in Ardmore, Okla. Memorial services will be Monday at Bethel Baptist Church with Pastor Don Ray Thomason to Officiate. Services will be at 10:30am under the direction of the Middleton Family.
Cremation services under the direction of Hillcrest Crematory.
Carl was born on November 25, 1977, in Michigan City, IN., to Roger Dale Middleton and Brenda Gail (Langston) Middleton. His family moved to Columbiana, AL., where he attended and graduated high school at Shelby County High School with the Class of 1996. He then went to work for Piggly Wiggly as a sacker and stocker and then for Winn-Dixie for about 10 years. Due to his health, he had to retire with disability. Carl met the love of his life, Zenda Zerelda Baker, online and moved to Fort Smith Arkansas and they married on December 31, 2015. The couple lived there until they moved to Marietta in 2017, to be close to his wife's family. Carl spent much of his time fishing, tending to the garden and always helping his family work in the yard.
He was preceded in death by his maternal grandfather, Carl Langston, paternal grandparents, Rase Middleton and Azlee Stanfill and step-grandfather, Earl Stanfill. Step Brother Leon Edwards.
Carl is survived by his wife, Zenda Middleton, of the home, parents, Roger Dale Middleton and Brenda Gail (Langston) Middleton, one brother, Joe Middleton and wife Cindy, three nieces and nephews, Shelby, Andrew, and Daisy, and maternal grandmother, Ella Langston, all of Calera, AL, step-brother, Robert Edwards, of Georgia, and step-sister, Lisa Marie Edwards, of Florida.
Serving as Honorary pallbearers will be Lyle Baker, Kenny Leaks, Brian Baker, Anthony Middleton, Neal Huskey, and Joe Middleton.