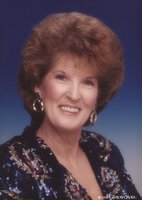 Deanna Arlene Holley
Deanna Arlene Holley, 78, passed away peacefully August 24, 2019, in Oklahoma City, Oklahoma. Memorial service will be held Saturday, September 21, 2019 at 2:00 pm in The Chapel at Griffin-Hillcrest of Ardmore, Oklahoma.
Deanna was born August 3, 1941, in Fleetwood, Oklahoma to Buster and Lizzie Alsup. She was raised in Fleetwood and graduated from Terral High School in 1959. After high school, she moved to Wichita Falls, Texas where she met and married Royal. They moved to Oklahoma City where she actively involved in her daughters' sports activities and her sewing interests.
Deanna's interests included sewing, quilting, baking, gardening and ranching.
She is preceded in death by her parents and two brothers, Wade Alsup and Clint Alsup.
Deanna is survived by her husband, Royal Holley, and her children: Amanda Earle of Oklahoma City, Okla.; Susan Morrison and husband, Brandon, of Sandersville, Georgia; and four grandchildren: Jordan Goodrich, of Oklahoma City; Duncan Goodrich of Brighton, Colorado; Preston Earle, of Oklahoma City; and Bailey Barron of Sandersville, Georgia.