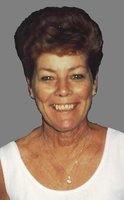 Norma Jean Wall
Norma Jean Wall, age 84, passed away on Wednesday, August 21, 2019, at Marietta, Okla. Funeral services will be 2:00 pm, Saturday August 24, 2019, in The Chapel at Griffin ~ Hillcrest Funeral Home with The Reverend Sharron Crockett officiating. Interment to follow in Rose Hill Cemetery, Ardmore.
Jean was born on August 4, 1935, to Odis Mack Runnels and Esther (Brandstatt) Runnels in Cache, Okla. She attended Cache Schools excelling at basketball and softball. She loved to sing and participating in school plays. Norma Jean graduated from Cache High School, Class of 1953. She met Robert "Bob" Wall in 1956 when she applied for a job at Fort Sill. He saw her and demanded that they promptly hire her to work in the Artillery and Guided Missile School Command. The couple married on January 5, 1957, at Wichita Falls, Texas. After Bob's honorable discharge from the Army, the couple moved to Oneida, New York. Norma Jean worked at Rome Air Force Base as a secretary. She became a housewife after the birth of her children. Moving to Baytown TX in 1968 and taking a position with the Baytown Employment Agency. Moving to Ardmore in 1976, she went to work for Stromberg-Carlson as a purchasing agent, later taking a position at the Carter County Commissioner's Office where she retired in 1992. She loved to embroider and completed crossword puzzles in ink and enjoyed solving crypta-quotes.
She was preceded in death by her parents, two daughters, Rhonda Wall and Donna McCage, brother, Billy Frank Runnels, and sister, Wanda Jo Martin.
Jean is survived by her husband, Bob Wall, of Lone Grove, Okla., daughter, Barbara McGinnis and husband, Phil, of Ardmore, two grandsons, Brandon Noland of Norman, Okla., and Billy McGinnis of Florida, sister, Nancy Carol Lynn and husband, Butch, of Lawton, Okla., brothers: Floyd Ray Runnels of Wilson, Okla., Dale Runnels and wife, Ann, of Temple, Texas, and brother, Ronnie Mack Runnels and wife, Irene, of Cache, Okla., and numerous family members and friends.
A visitation will be held from 6:00 pm until 8:00 pm, Friday evening, August 23, 2019, at Griffin~Hillcrest.