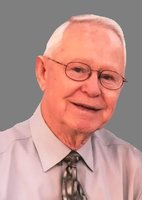 Harold Wave Dillard, Sr.
Harold Wave Dillard, Sr., age 90, passed away on August 16, 2019, in Ardmore, Okla.
Funeral services will be held at 2:00 PM, Friday, August 23, 2019, at McLish Avenue Church of Christ under the direction of Griffin-Hillcrest Funeral Home with interment to follow at Hillcrest Memorial Park, Ardmore.
Harold was born on October 16, 1928, to Fay Kinmon Dillard and Deanie Myrtle (McCampbell) Dillard, in Ardmore, Okla. He attended and graduated from Ardmore High School with the Class of 1950. Harold married Martha Ferguson on March 30, 1974, in Gainesville, Texas. He was a member of McLish Avenue Church of Christ. He began working at OG&E in 1962, and was with the company until his retirement in the '80s. Harold's hobbies included traveling, gardening, fishing, snow skiing, playing dominoes, and reading historical novels. He was well known for his bountiful gardens and his generosity in sharing his bounty. He absolutely loved music and was a huge fan of big band music, Irish music, and classic musical songs. One of his first jobs was at Luke's Music Store in Ardmore. He played the clarinet and was a member of the Ardmore Community Band in the 1940s. His love of music was passed down to several family members. Harold also loved old movies. As a matter of fact, when family members would come to visit, he would always end up asking, "Have you ever seen…?" No matter how many times they had seen his movies, the answer was always "no!" There was something special about getting to watch his favorite old movies with him over and over again! He will be fondly remembered for his amazing sense of humor, entertaining storytelling, and amusing facial expressions. He was loved and adored by his family and will be greatly missed!
He was preceded in death by his parents; wife, Martha Dillard in 2017; son, Joseph Edward Dillard in 1993; sister, Rebecca Aileen Dillard in 1932; brother, Fay "Bill" Kinmon Dillard, Jr. in 2016; grandson, Dylan Jeffrey Johnson in 2011; granddaughter, Cindy Lynn Winsett in 2015; son-in-law, Kenneth Dale Grammer in 2017; and step son-in-law, Tom Moore in 2018.
Harold is survived by his children, Harold Dillard, Jr. and wife, Karen, of Tulsa, OK; Gary Dillard and wife, Karen, of Belton, SC; and Carol Grammer of Carnation, WA, their mother, Wanda Lemons, of Belton, SC; step-children, Denice Moore of Beaverton, OR; Janise Powell and husband, Rick, of Plano, TX; Joy Sehl-Johnson of Tulsa, OK; and Jim Johnson and wife, Pat, of Oklahoma City, OK; 19 grandchildren; 21 great-grandchildren; and 3 great-great grandchildren.
Serving as pallbearers will be Steve Mann, David Johnson, Bobby Wallace, Ronnie Byrd, Ron Jones, Lonnie Harris and Earl Mann.
To honor the family, donations can be made to Cross Timbers Hospice at www.crosstimbershospice.org.