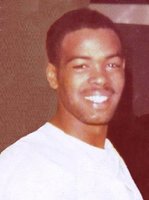 Eugene "CandyMan" Ellis III
Eugene "CandyMan" Ellis III, age 62, passed away at Oklahoma City, Okla., surrounded by his family. Funeral services will be held at 1:00 pm, Saturday, August 10, 2019, in the Chapel at Griffin ~ Hillcrest with Pastor John Roberts officiating. Interment to follow in Clearview Cemetery, Ardmore, Okla.
Eugene was born on December 12, 1956, at Ardmore, Okla., to Eugene Ellis II and Mae Francis (Louis) Ellis. He attended and graduated from Ardmore High School in the Class of '75. He loved to play basketball with his friends and was a Golden Gloves Boxer. Eugene enlisted in the United States Army serving as a Missile Crewmember. He returned to Oklahoma and married Marie Anderson and from this marriage came two children. Their marriage ended. He worked at the bus station in Oklahoma City and then in Ardmore and at the Veteran's Center. Eugene then worked for Walmart in inventory control until his retirement. Eugene loved to sit under the shade tree and hang out with his friends and have a good time. He was baptized at an early age in to the Macedonia Missionary Baptist Church.
He was preceded in death by his parents.
Eugene leaves to this world his significant other for the past 20 years, Mary Martin, son, Shirron Ellis, of Ardmore, daughters: Latoyha Ellis of Dallas, Texas, and Itarea Foreman of Tulsa, Okla. Step-daughter, Katrice Williams of Edmond, Okla., and step-son, MondRay Williams of Upland, CA. Five grandchildren: Aunesti, Tozjai, Josalyn, Jamia, and Dontae. Two great-grandchildren: Isaac and Ehryn. Seven siblings: Bobby Ellis of Ardmore, Ruby Jones (Rickie) of Atlanta, Georgia, Denise Taulton of Ardmore, Craig Ellis ( Virginia) of Houston, Texas, Felicia Calhoun (Travis) of Gainesville, Texas, Vincent Gordon ( Camedra), of Ardmore, Cornell Gordon ( Consuela) of Ardmore, and honorary sister, Nina Parker, of Oklahoma City, Okla. Special aunt, Cecelia Owens, and nieces, nephews, a host of family and friends.
Visitation will be held on Friday evening, from 6:00 pm until 8:00 pm, August 9, 2019, at Griffin ~ Hillcrest, of Ardmore.