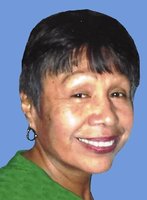 Mary Ann Ned
Mary Ann Ned, age 67, passed away on Monday, August 5, 2019, at Ardmore, Okla.
Graveside services will be held at 10:00 am, Friday, August 9, 2019, at Rollins Cemetery with The Reverend Steve Wall officiating.
Mary was born at Talihina, Okla., on April 4, 1952, to Justin Ned and Anna (Davis) Ned. The family moved to Dickson, Okla., and she attended Dickson Schools. She worked at the Cookie Factory in Marietta before she began working in the home health field. She earned her Certified Nurse's Assistant and has worked for the past ten years as a CNA. Mary loved listening to music, supporting her nieces and nephews as they played sports, and spending time with friends and family.
She was preceded in death by her parents, twin sister, Betty Ned, sisters, Brenda Sampson, Roberta Ned, and Phyllis Sampson, two nephews, one niece, one great-nephew and one great-niece.
Mary is survived by four brothers: Larry Ned, of Ardmore, Calvin Ned and wife, Rhonda, of Mannsville, Okla., Harold Ned and wife, Irma, of Oklahoma City, Okla., and Curtis Ned, of Ardmore, her sister, Josephine Ned, of Ardmore, and numerous nieces and nephews.
Prayer services will be held on Thursday evening, from 6:00 pm until 8:00 pm, August 8, 2019, at Griffin ~ Hillcrest Funeral Home, of Ardmore.