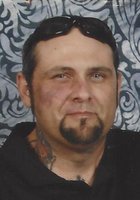 Billy Wood
Billy Dewayne Wood, age 44, passed away on Monday, July 1, 2019, in Ardmore, Okla. Funeral Services will be held at 10:30 am, Tuesday, July 9, 2019, in The Chapel at Griffin ~ Hillcrest Funeral Home, with Pastor Pearl Broome to officiate. Interment to follow in Rose Hill Cemetery.
Billy was born on December 6, 1974, at Ardmore to Melton Dean Wood and Sherry (Reed) Wood. He was raised by his Nanny, Eries Mary Wood, and he attended Ardmore Schools and Murray State College. He attended East Central University and graduated with Honors and a Bachelors' Degree in Science in 2016. Billy was an avid OU fan, watching every game he could. He also followed the New York Giants and was an obsessed fan of Star Wars. He even had a Darth Vader themed wedding when Billy married Donna Summers on March 19, 2016, at Lone Grove, Okla.
He was preceded in death by his Nanny, Eries Mary Wood, and father, Melton Dean Wood.
Billy is survived by his wife, Donna Wood, and two children, Billy Dean Wood and Savannah Wood, brother, Robert Wood, and sister, Mary Wood, He was lovingly known as "Papa Billy" to six grandchildren. Three sister in-laws that loved him very much. He is also survived by a host of family and friends.
Pallbearers will be: Nick Bishaw, Levi Summers, Steven Summers, Alvin Hill, Robert Wood and Mathew Wood.
A visitation will be held on Monday, July 8, 2019, from 6:00 pm until 8:00 pm, at Griffin ~ Hillcrest.
Condolences may be left at www.griffinhillcrest.com.