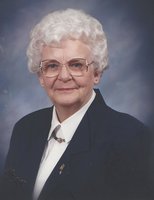 Ozelle Ralls
Ozelle Ralls was born on November 22, 1926, at Fobb, Okla, in Murray County, to Arthur W. and Della C. (Dutton) McDonald. She entered Heaven's Gates on Saturday, January 5, 2019, at the age 92 years old. Funeral services are scheduled for Wednesday, January 9, 2019, at 10:00 A.M., at Trinity Baptist Church with Rev. Terry Tolbert and Rev. Jimmy May officiating. Interment to follow in Hillcrest Memorial Park.
Ozelle attended elementary school at Fobb, Ok. The family moved to Lake Murray after it was completed, and she attended Dickson School and then Plainview School where she graduated with the Class of 1946. Ozelle's favorite employment was at Washington School as a teacher's aide and she loved every one of the children. After Washington School closed, she became a secretary at the Developmental Center, and then later a dental assistant. Upon retirement, she continued to work out of her home doing alterations. One of her former customers commented recently that "she was the best!" Ozelle taught Sunday School for a number of years and was also involved in several ministries at church. Ozelle and Noah Wayne Ralls were married on April 3, 1947, and their love story never ended even at her death. She was a very loving and devoted wife, mother, grandmother, and sister. Ozelle loved people - her family, friends, and church family. She loved the camping trips she and Wayne took with family and friends and her rock garden is evidence of the many trips that they took over the years. Ozelle loved to sew and visit with friends and family.
She was predeceased by her daughter, Jo Beth Thurman, grandson, Wesley Joe Thurman, brother, Glen James McDonald, sister, Sybel Trammell, and her parents.
Ozelle is survived by her husband, Wayne Ralls, sons, Larry Ralls and wife Ann of Port Angeles, Washington, Jimmy Ralls and wife Gail of Ardmore, grandchildren: Stephanie Brinton, Lidia Cebula, Christopher Ralls, Kelsey Ralls, Jennifer Moore, Carmella Geurin, Shaharra Brooks, Jimmy Dale Ralls, Shawn Thurman, 20 great-grandchildren, 3 great-great-grandchildren and sister, Laura McDonald of Ardmore.
Visitation will be at Griffin~Hillcrest Funeral Home on Tuesday evening, January 8, 2019, between 6:00 and 7:00 P.M.
Donations may be made to Trinity Baptist Church, 320 North Washington, Ardmore, OK 73401 or Cross Timbers Hospice, 207 C St NW, Ardmore, OK 73401.