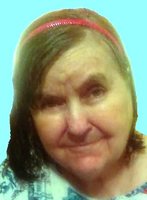 Alice Taylor
Alice Sue Taylor, age 69, passed away on Saturday, December 22, 2018, at Shawnee, Okla. Funeral services will be held at 2:00 pm, Thursday, December 27, 2018, in The Chapel at Griffin ~ Hillcrest of Ardmore, Okla., with internment to follow. The Reverend Steven Wall will officiate.
Alice was born at Ardmore, Okla., on January 8, 1949, to H.C. Barton and Francis (Erlewine) Barton. She attended school and graduated from Wilson High School with the Class of 1967. Alice and Danny Lee Ezell Sr. married at Ardmore in 1969, and from that marriage three children were born: Danny, David, and Tammy. Their marriage ended in 1982. She met Harvey Eugene Taylor in 1983 and married him at the Lake Murray Chapel. From their union was born Jessica Lynn Taylor. Alice was a homemaker for most of her life and focused on the care of her children. She like watching old westerns and wrestling, and she read anything she would get her hands on.
She was preceded in death by her parents.
Alice is survived by her husband, Harvey Eugene Taylor, daughters: Jessica Lynn Taylor and her boyfriend Aaron Copeland of the home and Tammy Huey and husband, Craig, all of Ardmore. Sons: Danny Ezell, Jr., and wife, Renee, of Ardmore, and David Ezell and wife, Misti, of Dickson, Okla. Fifteen grandchildren, and thirteen great-grandchildren. Sister, Linda Utt, of Ardmore, and brothers: Bill Barton and wife, Nettie, and Kenny Barton and wife, Cindy, all of Ardmore. A host of family and friends.
Serving as pallbearers will be; Brandon Stidham, Keith Stidham, James Johnson, Mike Johnson, Shannon Johnson, and Donnie Johnson.
Honorary Pallbearers will be Kathleen Ezell, and Joseph Wolf.
A visitation will be held from 6:00 pm until 8:00 pm, Wednesday, December 26, 2018, at Griffin ~ Hillcrest Funeral Home.
Condolences may be left, and full obituary read at www.GriffinHillcrest.com.