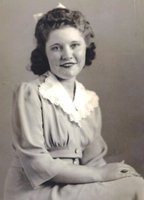 Enna Faye (LaFevers) Long
Enna Faye (LaFevers) Long, age 95, passed away on Thursday, December 13, 2018. Funeral services will be held at 2:00 pm, Wednesday, December 19, 2018 in The Chapel at Griffin~Hillcrest. Services will conclude in The Chapel.
Enna Faye was born to Lucian LaFevers and Myrtle (Cothran) LaFevers on Feb. 20, 1923, at Bristow, Okla. She married Lee Francis Long on July 3, 1947, at Ardmore, Okla. She was a lifetime member of the Eastern Star and belonged to the VFW Ladies' Auxiliary. For the last three years, Enna Faye was a resident of Lakeland Manor where she received their excellent care. She was a devoted wife, mother, grandmother, housewife, and best friend. She was the best cook and skilled crafter. She crocheted, knitted, quilted, and would create beautiful gifts for her family and friends.
She was preceded in death by her husband, Lee F. Long, son, Tommy L. Long, mother, Myrtle LaFevers, brothers: Earl LaFevers and Gernald LaFevers, and sister-in-law, Marguerite LaFevers.
Enna Faye is survived by her son, Michael Long and wife, Tammie, granddaughter, Kaitlyn Long, nieces: Lanita Youngblood and Deanna Woolsey, family friend, Sandra Stevenson, and numerous great nieces and nephews.
In lieu of flowers, donations could be made to Sunshine Adult Day Services, by their web site, sunshine-industries.org or at, 534 Park SE, Ardmore, OK 73401, in Enna Faye's memory.
A visitation will be held from 6:00 pm until 8:00 pm, Tuesday, December 18, 2018, at Griffin~Hillcrest.
Condolences may be left at www.griffinhillcrest.com