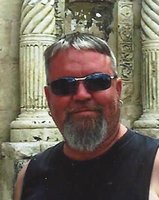 Willie Jagers, Jr.
Willie Jagers, Jr., age 45, passed away on Thursday, December 13, 2018, at Ardmore, Okla. Funeral services will be held at 2:00 pm, Tuesday, December 18, 2018, in The Chapel at Griffin ~ Hillcrest Funeral Home, Ardmore, with Pastor Donny Custar officiating. Cremation to follow under the direction of Griffin ~ Hillcrest Crematorium.
Willie Jr. was born to Willie Jagers, Sr., and Carol "Jeannie" (Parker) Jagers on August 22, 1973, in Ardmore, Okla. He attended Dickson schools and graduated with the Class of 1991. Willie, Jr., married Michelle Sullivan in Ardmore, in January of 1992, and from this marriage came his children, Devin, Makala, and Gage. Their marriage ended in 1999. A truckdriver by trade, Willie drove for many different facilities in the Carter County area. He married Andee Mullis on Dec. 1, 2001, at Ardmore, and from this marriage came his children, Trey, and Jole'e. Their marriage ended in 2004. Willie married Jennifer Henshaw in January of 2007, and their marriage ended in 2010. He has been with Erin Clark since January of 2013. Willie loved to dance, go to the lake to fish and swim, and spend time with his family and friends around bonfires. He was a scary movies fanatic and enjoyed going to the big diesel truck shows.
He was preceded in death by his mother, Jeannie Jagers.
Willie, Jr., is survived by his father, Willie Jagers, Sr., Ardmore, fiancé, Erin Clark of Lone Grove, Okla. Five children: Devin Jagers of Oklahoma City, Makala Jagers of Lone Grove, Gage Jagers and wife, Kass, of Virginia, Trey Jagers, and Jole'e Jagers both of Yukon, Okla., step-daughter, Dakota Bunch, step son, Gage Bunch, Grandchildren: Stetson Jagers of Okla. City, and Khloe Jagers of Virginia brother, Christopher Ray Parker, and sister, Jamie Lynn Parker, both of Ardmore. Nephews: Cody Parker of Lone Grove, and Rowdy Parker of Ardmore, Okla., and niece, Lacey Parker of Ardmore. Great-nephew, Noah Lee Parker, of Lone Grove.
Visitation will be held on Monday evening, from 6:00 pm until 8:00 pm, December 17, 2018, at Griffin ~ Hillcrest Funeral Home.
Condolences may be left at www.griffinhillcrest.com.