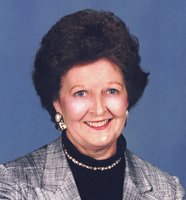 Odessa Bailey
Odessa Bailey, age 83, passed away on February 9, 2018, in Ardmore, Okla. Funeral services will be held at 3:00 pm, Tuesday, February 13, 2018, in The Chapel at Griffin~Hillcrest. Interment to follow in Hillcrest Memorial Park, Ardmore, Okla.
Odessa was born on September 11, 1934, to Walter Scribner and Nora (McAlister) Scribner in Powell, Okla. She attended school in Madill, Okla., where she was the eighth grade Spelling Bee Champion. She graduated from Ardmore High School in Ardmore, Okla. In 1953 Odessa worked for Oklahoma Natural Gas Company and took a short sabbatical to care for her children and returned to ONG where she put in 32 years and retired. Then for the next 10 years, worked at the Ardmore Day Nursery. Her husband passed away in 1983 and Odessa finished raising their three children. She was their inspiration. The family placed their membership with the First United Methodist Church of Ardmore. Odessa was a devoted Mother and Grandmother. She cherished her four grandkids: Greg Bailey, Courtney Bailey, Ragen Holt, and Nick Bailey. Her hobbies included working in the yard and spoiling her grandchildren.
She was preceded in death by her husband, Cecil Bailey, parents, Walter Scribner and Nora Scribner, father-in-law, Horace Bailey, mother-in-law, Ruth Bailey, and brother-in-law, Horace "Butch" Bailey.
Odessa is survived by three children: Kent Bailey, Scott Bailey, and Tracy Holt, four grandchildren: Greg Bailey, Courtney Bailey, Ragen Holt, and Nick Bailey, sister, Yuvonda Hale, and one nephew, Ron Warner.
Visitation will be held on Monday evening, from 6:00 pm until 8:00 pm, February 12, 2018, at Griffin~Hillcrest, Ardmore, Okla.