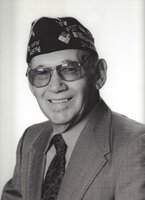 Tommie Wilburn Crowell
Tommie Wilburn Crowell, age 94, passed away on February 8, 2018, in Ardmore, Okla.
Funeral services will be held at 10:30 am, Monday, February 12, 2018, in The Chapel at Griffin~Hillcrest with Pastor David Gardner officiating. Interment to follow in Hillcrest Memorial Park.
Tommie was born on October 3, 1923 to William Crowell and May E. (Roberts) Crowell in Fox, Okla. Tommie attended and graduated from Lone Grove High School. He then attended college at Murray State and later East Central where he received a Bachelor's Degree in education. He also attended South Eastern where he received his Masters in Education. Tommie enlisted in the Army from 1943 until 1945 and served in WWII.
He married Christine Aline Reed Winegeart on May 1, 2002 in Ardmore, Okla. He was a member of the Masonic Lodge #25 of Lone Grove, Okla. He was a member of New Hope Church of God.
He was preceded in death by his parents and first wife, Zealon Crowell.
Tommie is survived by his wife, Christine Aline Crowell, son, John William "Bill" Crowell and wife Darlene, of Elk City, Okla., daughter, Audrey Ann Crowell, of Eureka, CA, two grandchildren, Ricky Crowell and Rodney Crowell, and five great-grandchildren; Shelby, Tiffany, Reigan, Cassie, and Joni. Two great-great grandchildren, Kaidence "Bug" and Breckin.
A visitation will be held from 6:00 pm to 8:00 pm, Sunday, February 11, 2018, at Griffin~Hillcrest.
Pallbearers will be Shane McKinnon, Brice Woolly, Curtis Moore, Joe Fine, Buddy Norman and Randall Norman.