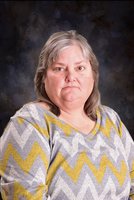 Patricia Gayle Baker
Patricia Gayle Baker passed away at the age of 52 in Lone Grove, Okla., on Sunday, December 24, 2017. Funeral services will be held at 10:00 am, Monday, January 1, 2018, in The Chapel at Griffin ~ Hillcrest Funeral Home of Ardmore, Okla., with Pastor Debra Bowens officiating. Interment in Hillcrest Memorial Park of Ardmore. Services will conclude in the chapel.
Gayle was born on October 24, 1965, in Oklahoma City, Okla., to James Cook, Sr., and LaWanda Faye (Wilson) Cook. She married Ronnie Baker on October 21, 1994, in Gainesville, Texas. Gayle received her Associate's Degree in 2007 from Murray State College. She went on to achieve her Bachelor of Art Degree in 2010 from East Central University. She has taught for the Chickasaw Nation Headstart as a teacher for fifteen years. Gayle was a ravenous reader and loved to go to garage sales and going shopping.
She was preceded in death by her father, James Cook, Sr., and granddaughter, Alexandra Olivia Michelle Edwards Conley.
Gayle is survived by her mother, LaWanda Faye Mason, husband, Ronnie Baker, daughters: Sandi Robb, and husband Danny and Brandi Edwards, and son, Jason Baker. Five grandchildren: Hailey Gayle Edwards, Dalton Alan Argo, Macie Faye Marie Argo, Shaylynn Edwards, and Dana Robb. Brother, James A. Cook, Jr., niece, Shyann Cook, and sister-in-law, Brenda Trammel.
Visitation will be held on Sunday evening, from 6:00 pm until 8:00 pm, December 31, 2017, at Griffin ~ Hillcrest Funeral Home.